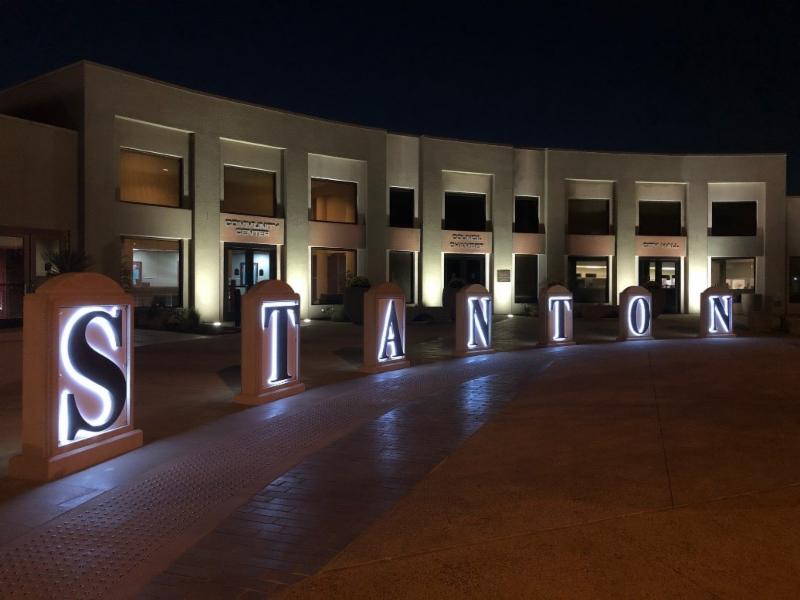 As Mayor of Stanton and under my leadership I am please to announce that the last two years of crime statistics for our town show a drop in total crime of 13%.
The Orange Deputy Sheriffs lead by our Police Chief Lt. Nate Wilson who serve Stanton have done an outstanding job again by decreasing crime 8% for the last reporting period which ranks us near the top of other local Orange County cities in crime reduction.
Violent Crimes for the past two years have dropped 6%. This period alone the robberies have dropped 34% because of the new deputies we added to our enforcement team. One of the larger drops has been a reduction of Property crimes 12% with at total of 17% for the last two years. This includes Larceny and Motor Vehicle theft.
To complement these decreases in crime our town's deputies have increased the number of arrests protecting our families and the business community. Felony Arrests are up 11% while Felony Warrant Arrests was up 26%. One of the most important statistics was the increase in arresting misdemeanor and warrant misdemeanor criminals at 85% over last year.
Our law enforcement team has been affected by Propositions 47, 49, and 109 helping to release more criminals into our town and neighborhoods. They have done an outstanding job keeping up with these effects and are working on putting them back into jail and out of Stanton.
More good news about homelessness in our town. The entire County of Orange has been saturated with large numbers of homeless because of the clearing of the riverbed in Anaheim and the expiration of motel vouchers that allowed homeless to have temporary shelter.
Stanton has been able to overcome this crisis by having already established a Countywide model homelessness program with the help of the Illumination foundation and City Net 2-1-1. To date our program has an actual street exit of 218 individuals and families (count as one) with a success rate of 91% still relocated and housed. We have also 149 active cases for both individuals and families who we are looking for successful housing placement and many who are housed. This includes Veterans, families, seniors, and individuals.
As your Mayor I want to share some of the stories about the successes of Stanton's Homelessness Program and helping relocation off our streets and neighborhoods. 
A Young man with his girlfriend on the railroad tracks between Dale and Beach. They have been living homeless on the streets for a few years. He did not have any income, health insurance, or non-cash aid. He was open to shelter however did not want to leave his girlfriend and we had difficulty finding a shelter that would accept both. With the partnership with OCSD we were able to relocate client off our streets and girlfriend back to family in Texas.
Large homeless family referred to City Net for services. The family has been living homeless, skipping around in motels in Cypress and Stanton. After mothers' income ran out, their motel stay was paid for by a church, but that funding also ran out and they found themselves homeless. She has an apartment lined up and does not want her children on the streets. Review of income determined that mother will be able to pay for apartment each month but needs help with first and last month's rent and security deposit. Using Hope Funds, City Net was able to assist in these expenses and helped to enter family into an apartment.
Homeless man identified during Stanton Outreach. He came in the following day to Stanton Inreach hours and we completed a full Intake and evaluation with him. He expressed interest in getting into a shelter to work on getting a job and having a place to stay. We were able to get him connected with Salvation Army Hospitality House in Santa Ana and he entered the program that day.
Homeless man had lost his housing and job in the recession and needs help getting back on his feet. He has struggled with income and housing since then. Recently his dog passes away and he was able to get a bed at Bridges at Kraemer Place. He is optimistic and excited for taking steps towards stability and housing.
Homeless man set an appointment and our case managers met with him in Stanton, conducted an intake, discussed shelter options and made a referral for the client to enter the Bridges at Kraemer Place shelter in Anaheim. City Net also arranged transportation and entry into the shelter.
Homeless woman we originally contacted on a street outreach. Currently living on railroad tracks off Chapman. She had recently lost her husband. She had tried previously to get into the Courtyard Transitional Center in Santa Ana but was unsuccessful. We were able to make a referral and get her and her puppy a bed there. City Net has case managers at the Courtyard and we connected her with them. In a recent meeting, she reports she is doing well, is actively looking for a job and seeking long term housing.
These are some of the many successes we have had in Stanton which has help those Veteran, families, seniors and individuals who were in need while making Stanton a better community.