Working for the People of Stanton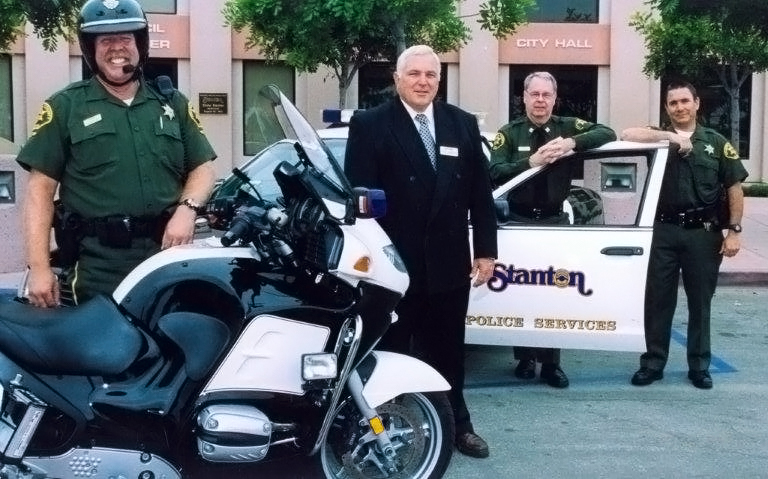 Serving as your Mayor is an honor. My experienced leadership has kept Stanton's budget balanced and our economy growing with citywide developments while protecting your tax dollars. My job is not finished. We must continue to save money while providing essential public services, safe neighborhoods, and affordable housing. As Mayor, Public Safety is my #1 priority. Our Firefighters and Deputy Sheriffs keep Stanton safe making our crime rate among the lowest in Orange County while working to solve homelessness. I reduced the Utility Tax and protected Proposition 13 safeguarding homeowner's rights. I support local voters controlling taxation. Under my leadership we built Stanton Central Park, reconstructed Village Center, installed Signalized Crosswalks, improved Neighborhood Parking, attracted Wendy's, In-N-Out Burger, Raising Cane's, Planet Fitness, Panda Express counting 200 new businesses. I established outstanding community programs for families, kids, and seniors. My family has lived in Stanton for 48 years. Listening to citizens and our business community has always helped me make good decisions for Stanton. I have kept my commitment to work for you. I'm asking you to Re-Elect me as your Mayor, so together we will keep Stanton a City of "Community Pride and Forward Vision".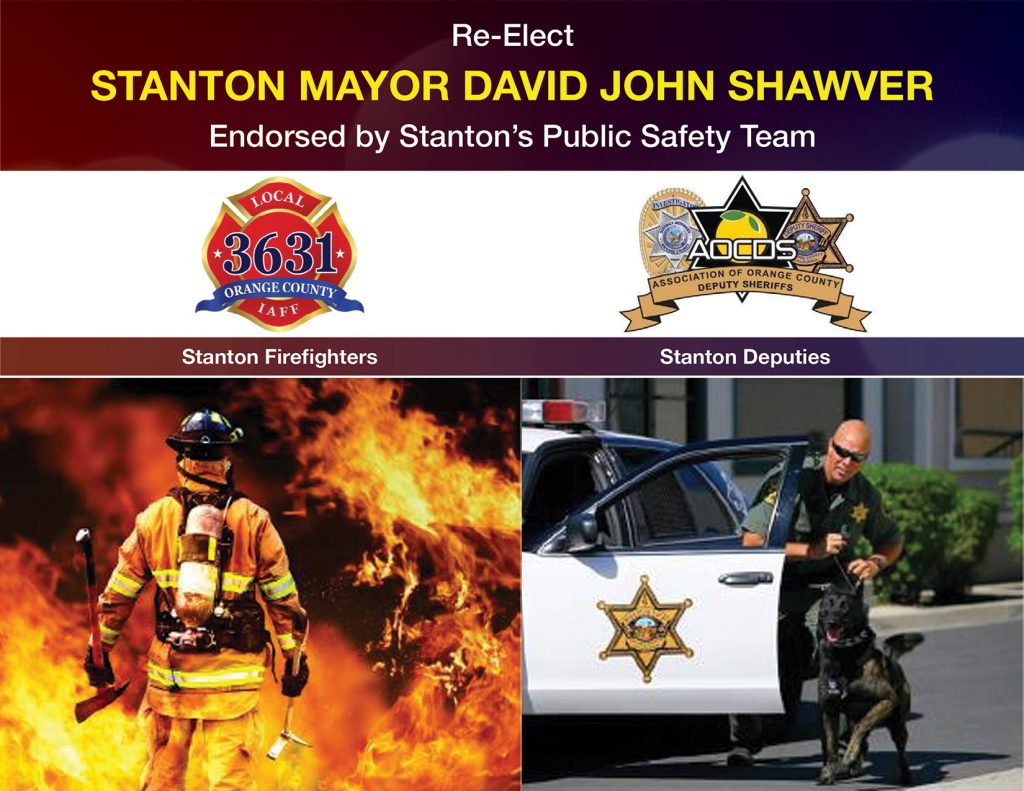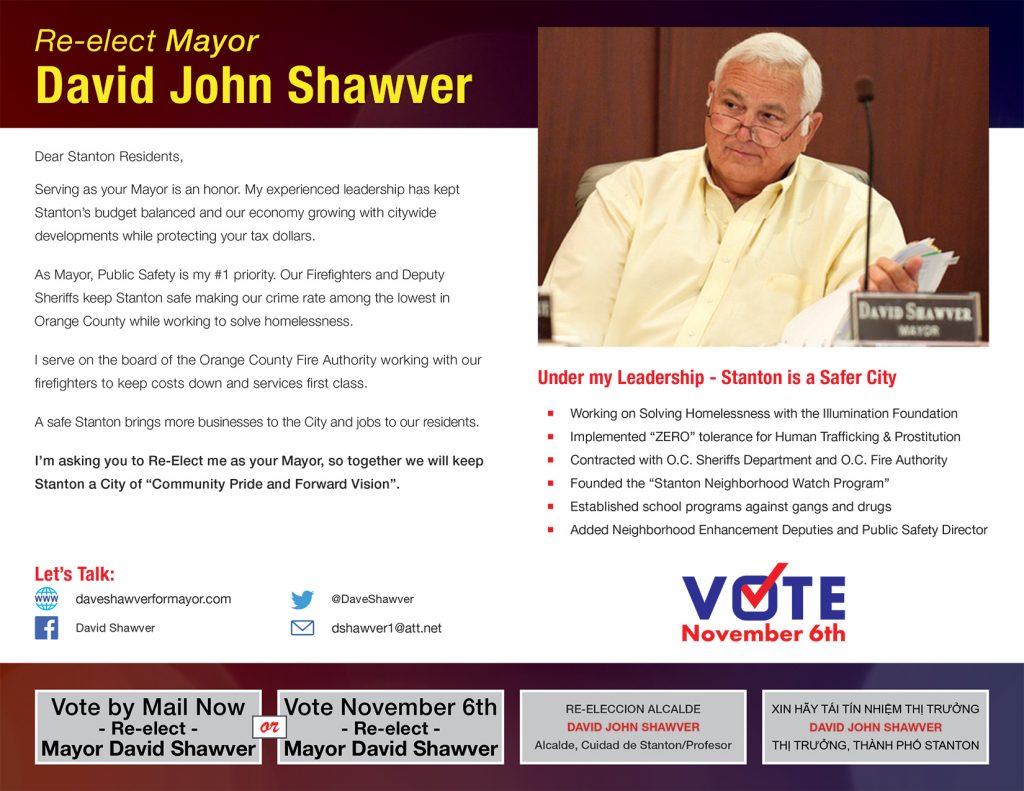 Together We will keep Stanton a City of "Community Pride and Forward Vision"
A Tax Fighter working for the People of Stanton...
On Tuesday November 6th the voters of our town will be going to the polls to vote for the candidates, measures and propositions that will shape the future of Stanton's leadership, laws, regulations and that of State and federal Government. It is important that you participate in this opportunity under your right to vote as established
Read More »
My article today profiles the City of Stanton so together we can better understand what our town is all about. The City was first incorporated in 1911 and reincorporated on June 14, 1956 when the Orange County Board of Supervisors voted 5-0 to incorporate an area of Orange County as our new city limits. I
Read More »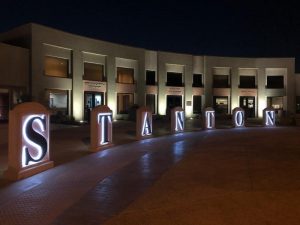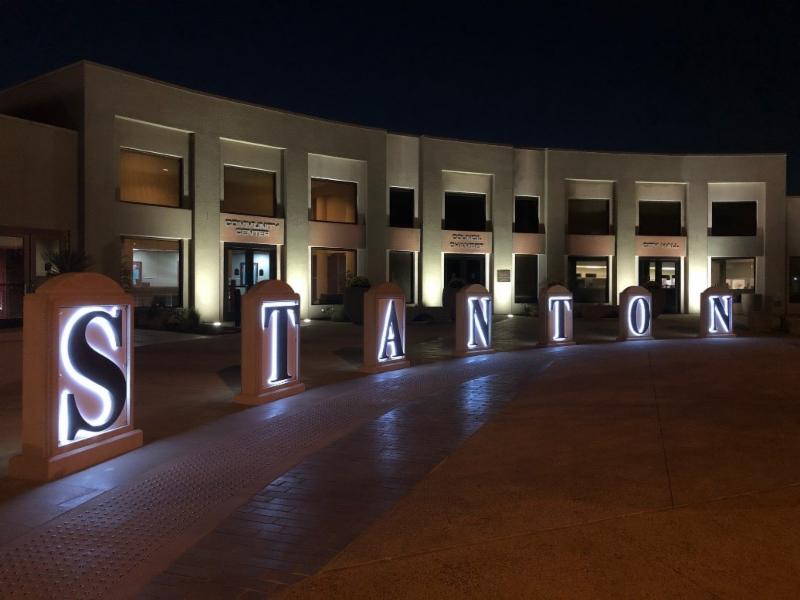 As Mayor of Stanton and under my leadership I am please to announce that the last two years of crime statistics for our town show a drop in total crime of 13%. The Orange Deputy Sheriffs lead by our Police Chief Lt. Nate Wilson who serve Stanton have done an outstanding job again by decreasing
Read More »